Tired of faking oohs and ahhs over towels and tupperware sets?
Make gift opening fun for everyone (instead of just the Baby
or Bridal Shower Guest of Honor) with Gift Registry Bingo!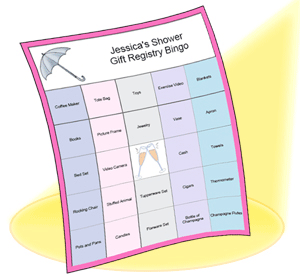 Enlarge Image

How to play this game
The object of this game is for baby shower or wedding shower guests to match the gifts opened by the Guest of Honor to the items listed on their bingo playing cards. Our bingo card generator automatically creates an all unique set of personalized bingo playing cards using the gifts you enter from the Guest of Honor's registry. Shower Bingo is the newest trend in bridal shower games, baby shower games, and housewarming games because it makes gift opening interactive!

How to make the game!
1. Choose your graphics for the Main Picture and Free Space Picture.
2. Enter the Baby Shower or Wedding Shower Guest of Honor's Name and select the Occasion.
3. Choose a border color and tile pattern.
4. Enter gifts from the Guest of Honor's registry. (Enter gifts that have already been purchased to guarantee they will be present at the event.)

Presto! Our Bingo Card Generator will scramble the gifts on to the bingo playing cards you designed. You may instantly print unlimited PDF playing cards from your home computer! (Make sure to print 1 per guest.) Only takes minutes! And great for Last Minute party planners!